CJ hammin it up.
Look at him cheese for the camera......ham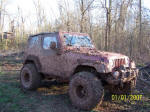 CJ`s Jeep.
Looks lik eh ehas been diggin..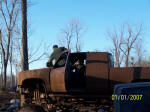 Who`s that in Wayne`s truck?
Oh~~say it aint so, he is letting Marty drive.......what was he thinking?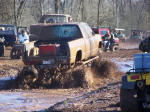 Getting muddy.
Looks like it might just be deep.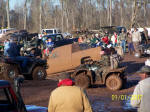 Me thinks that might be deep.
Marty diggin the nose down on Wayne`s truck...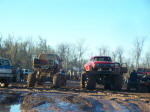 Wayne`s truck and CMF Red Ford.
Hmmmm...they look the same hieght, dang at the tire difference.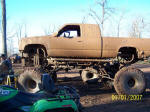 Wayne`s dried mud.
Looks like that truck has been sitting still too long.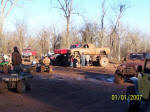 Wayne`s truck, Big Ford, and CJ.
Marty parked beside the big Ford and CJ easing in the picture from the right side.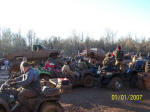 Marty getting pulled out.
Marty seems to have stuck Wayne`s truck.......oh how shameful..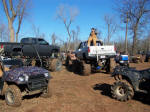 Michael and Wayne.
Getting a view.
Michael digging.
Looks like Michael is easing on through,,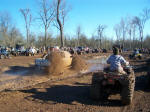 Get on it......
Michael tossing some mud in the air.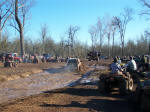 Slipping out the other end.
He says there aint nutting to it.....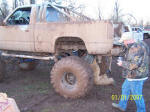 What`s he doing under there..???
What do you mean the driveshaft is loose?????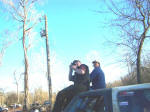 Tim and Craig....
Checking out the crowd from above.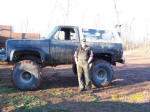 I am a poser....
About all the action you will see from me that day....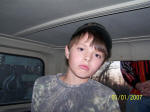 Spencer says.....
"We shoulda brought a Ford!!"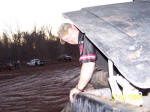 Yes its broke..
Well maybe not broke but it dern sure aint right...Can you say Holley?? Get the hammer its adjustment time..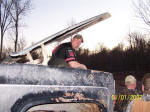 I love my truck....
No.. really I do ...really?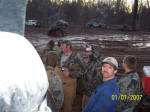 Tim says....
What are we gunna do now? Actually he says " I shoulda brought my truck."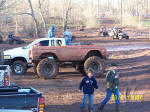 Bronco that went under a low bridge?
Can you say Chop My Top?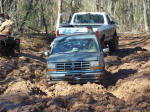 Hmmm..good idea?
I really don`t think it was a good idea at all....ha ha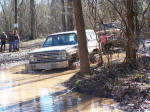 Blazer dug down..
Looks like he got in over his axles..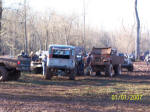 Hoods up.
Jumper cables out....I suffered this same problem.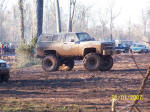 Blazer club.
You know I really like Blazers.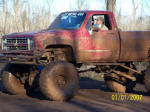 Heavy Metal 4x4
Nice set up ...no doubt about it.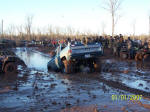 Stacked Chevy.
Nice looking chevy....heading into this mud road..notice how I didn`t say mud hole?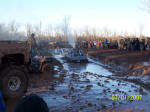 Looks like he might make it.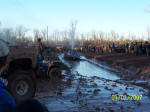 Uh-Oh...I see steam.
I think the Chevy might have got itself a little drink of water in there somewhere.
Looks like he made it..
Notice CJ looking off somewhere else? If it aint Jeep it aint worth watching he says....LOL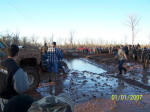 Jeep.......I know it should be on the Jeep page. BUT,,,
Notice CJ checking this one out....LOL
I just had to point that out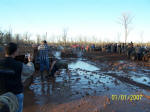 Look at this Jeep go.
Look at CJ snapping that picture.....go go Jeep....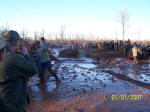 Man that Jeep is in Deep.
Hey that rhymes.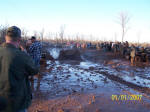 Jeep keeps on going..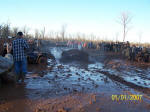 This Jeep isn`t playing.
Hmmm...is that CJ`s arm? I know that his camera...Ha Ha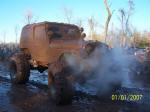 Wait a minute?
That isn`t a Jeep......well the top is....but what about the bottom? Is that Alcohol I smell?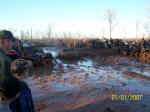 Heavy Metal 4x4 making his way through.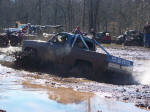 Pot-Ho-Patrol jumping in the mud.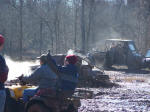 HEY!!! How yall doin?
How`s yo momma and dem?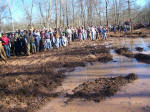 I think there might be a truck in there somewhere..
Notice the kid looking for something...ha ha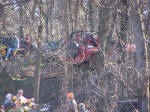 Sure hope his E-brake works.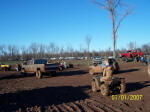 Lotsa folks running around Red River..
Some nice sized trucks.
Man I don`t remember that little stretch of road being that dry...ha ha ha. Like I said I got there a little late.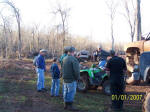 Few Mudstruck guys just standing around.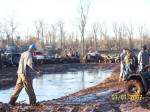 One slip and its in the swimmer for ya buddy.
That place wass slicker than greased owl poop.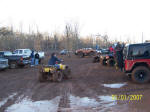 Another shot of the crowd.
Well and a chick shopping for her a 4 wheelin man......get out of the Jeep section girley if ya wanna real man...Ha Ha..Just kidding?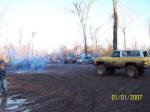 Tracking the elusive Ford.
Did you ever wonder how the Indians could track Fords through the woods? Now you know. I am just kidding again??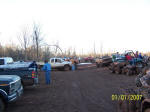 Crowd shot.
That big red Ford back in the back looking good.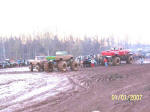 Shot of the crowd behind some of the larger trucks.
This shot will give you a real good idea of just how big these truck were.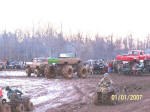 Another shot of the big boys.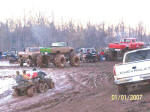 One Mo` Gin.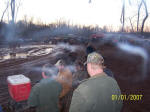 Someone has a poltergeist!!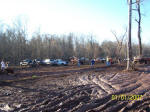 Crowd shot.
Now this looks more like the road I came in on.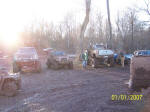 Michael, Craig and CJ.
We were watching the action.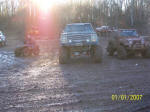 Mudstruck girls.
Amanda and Robin sitting in my Blazer and CJ`s Jeep parked beside them.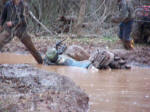 ATV DOWN!!!!
Bet he got his butt wet.....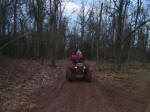 ATV trail...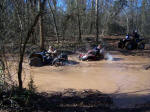 Someone needs to tell them....
Its the 1st of January and its still cold outside......glub glub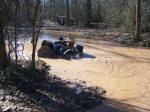 Ruh Roh......
Where`d the other feller go?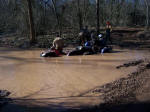 Um.......
There he is.........recon he got a little drink in there?
Aw heck no........
I think I would have spent the night before I let an ATV pull my Chevy around.....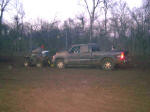 Man....
Just man.........um....ah.....He was a anchor so the ATV could winch a Ford out?......Yea..Yea..that`s it.
Now that`s cool...
A tracked ATV.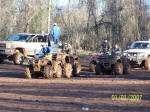 Come on man PUSH!!!!!
ATV`s break too ya know.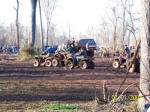 Still pushin......
Notice the guy pushing paying attention to the big truck...not the poor guy he is shoving around..ha ha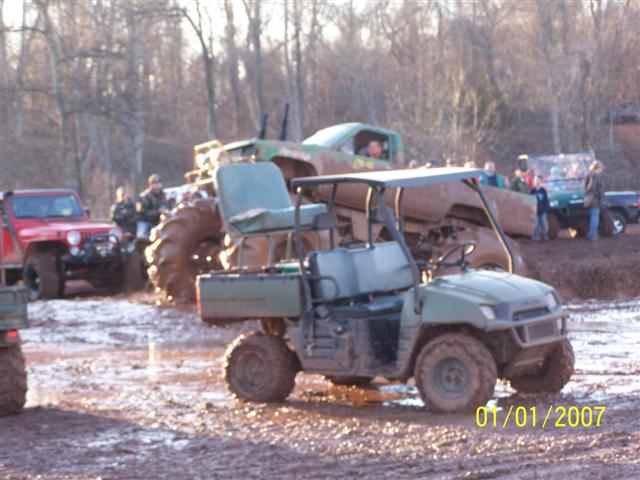 I aint riding up there..
No way......ha ha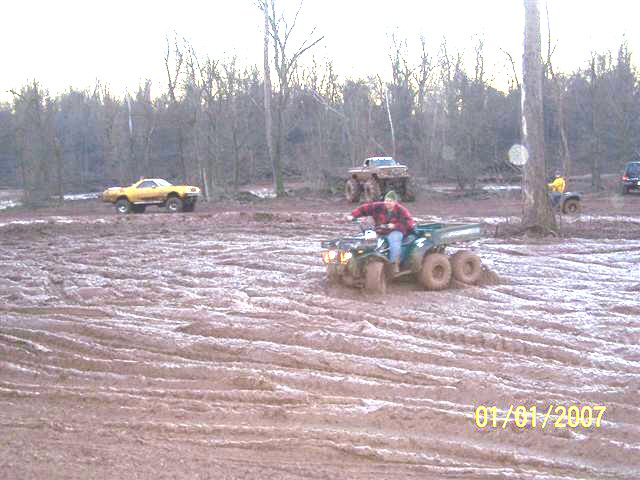 Ever try to play...
On a 6x6? He did.....and has a smile on his face..